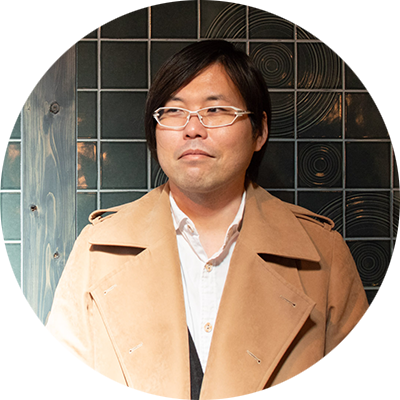 Designer/Director Kimura Ryuichi
Hachise's number one when it comes to remodeling traditional construction methods.
Ryuichi is known for going beyond the construction materials, fittings, interior styling, and other such basic Japanese design elements, and his unique style of expression of the traditionally Japanese has earned him many fans.
Ryuichi approaches each beautiful Japanese-style remodeling, again and again, with the desire to create "architecture never seen before," and "homes in which to relax."
As a designer, he is indispensable to Hachise's Japanese-style work.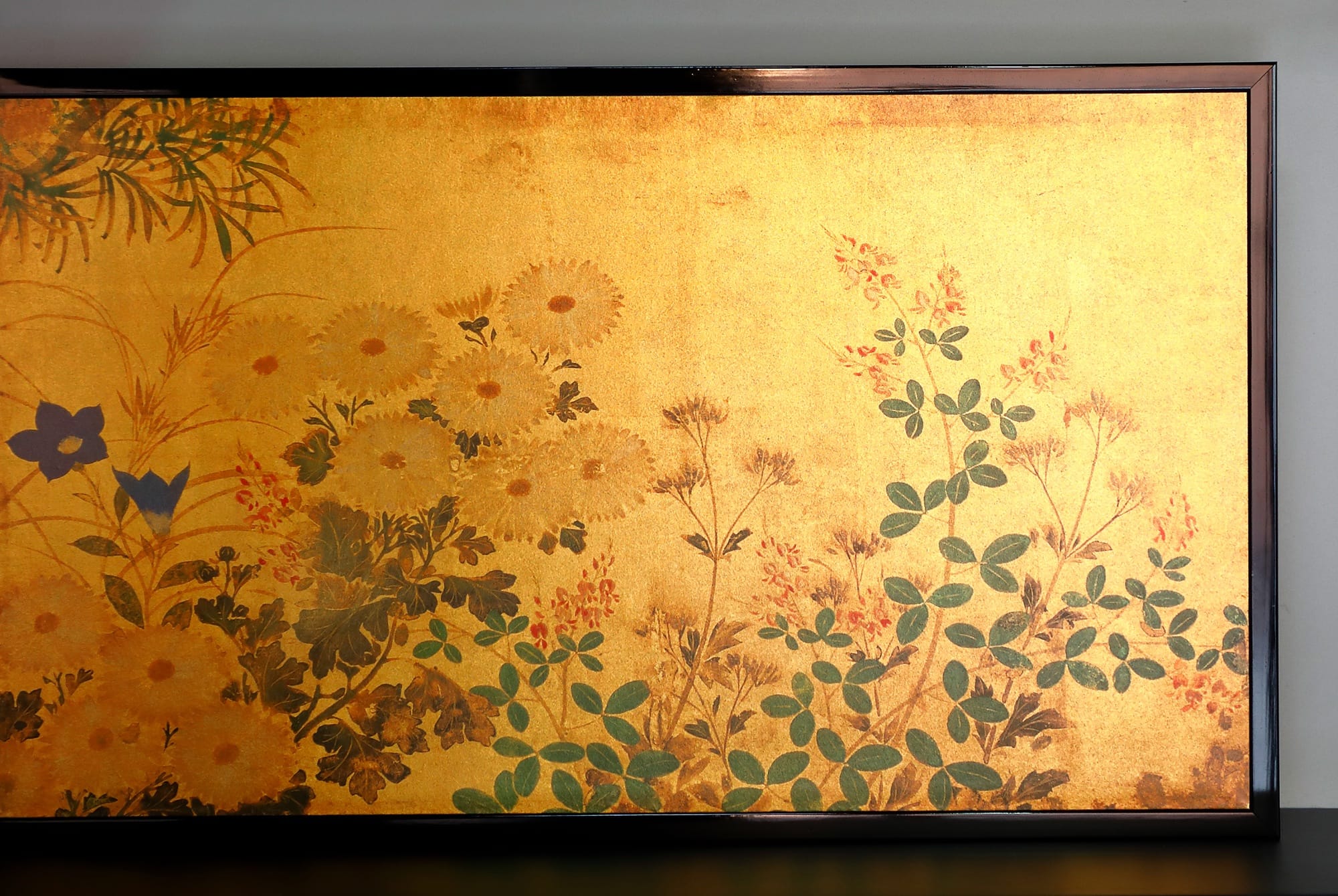 Folding Screen with Chinese Black Pine and Autumn Plants

Sakai Hoitsu(1761~1829)

This small folding screen features autumn grasses like chrysanthemum, yellow patrinia, Japanese clover, thoroughwort, Chinese bellflower, and karukaya thatching grass at the foot of a maki pine, all blossoming on a background of gold.
We can tell that Hoitsu based this work on a piece by Ogata Korin with the same layout, because that piece was included in "100 Korin Paintings," an anthology edited by Hoitsu.
Whereas Korin's painting features flowers and grasses on the upper and lower portions of the image, Hoitsu painted fewer flowers, lowered the perspective of the painting, and made use of white space.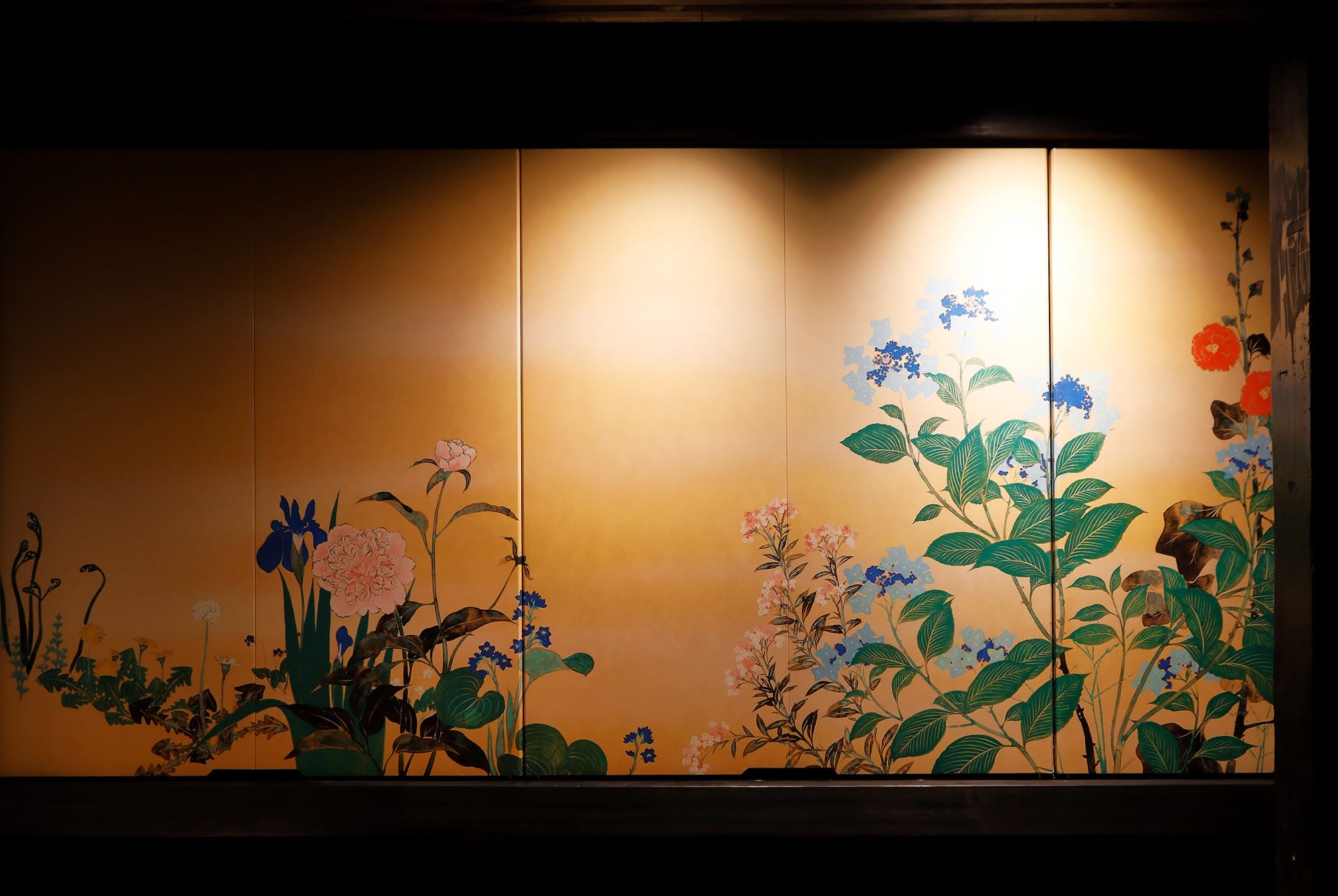 Folding Screen with Flowers and Grasses of the Four Seasons

Kamisaka Sekka(1866~1942)

This pair of folding screens are brightly painted, the right screen showing the colorful and lush plants of spring into summer, beginning with budding plants, bracken, dandelions, hydrangeas, hollyhocks, and others; and shows Japanese pampas grass, bush clover, sasanqua camellia, and Japanese silverleaf on the left screen.
Amidst traditional rinpa motifs, Sekka's own bold style of composition can be seen in this piece.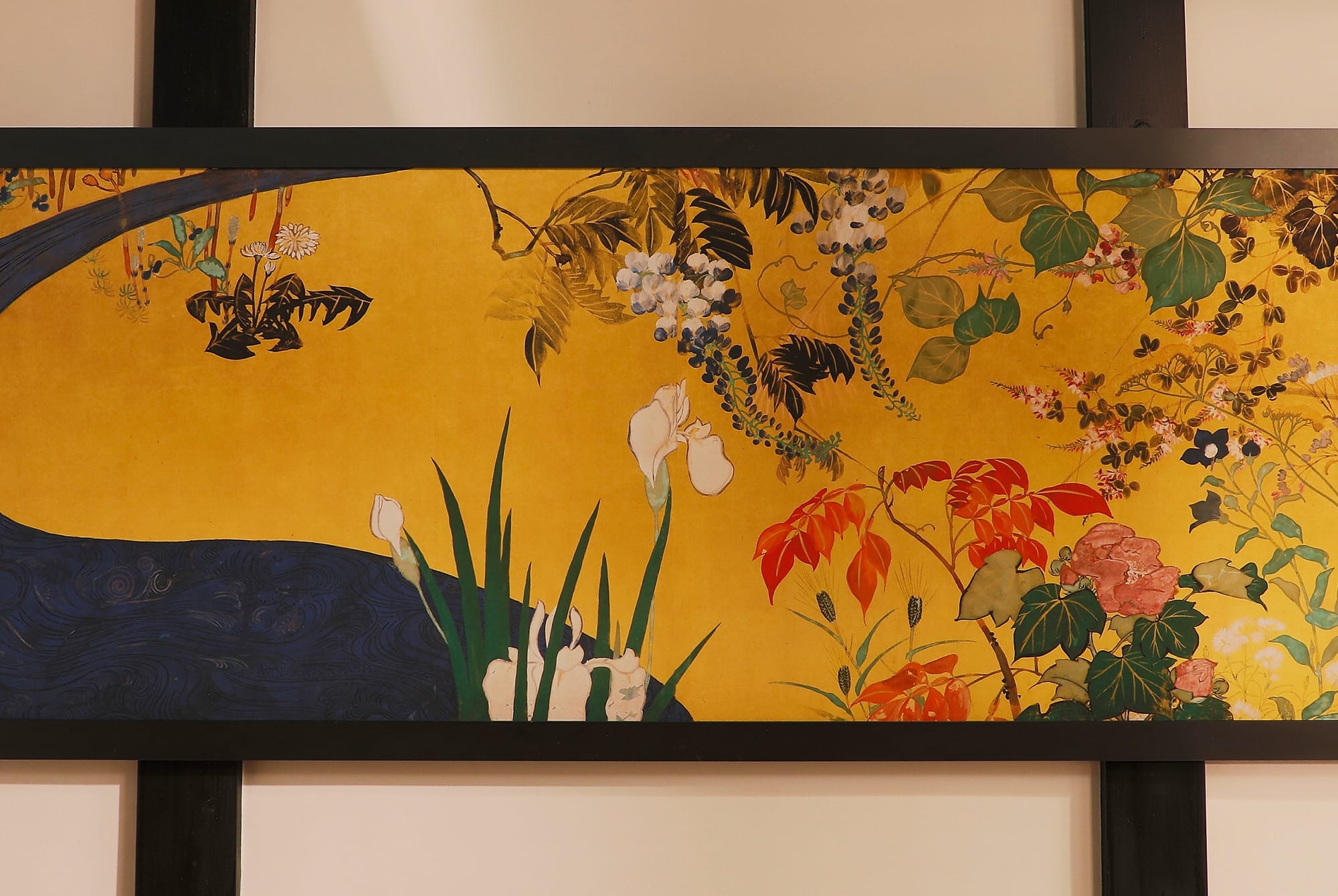 Folding Screen with a Stream and Flowering Plants of the Four Seasons

Ikeda Koson(1801~1866)

Aside from the motifs typical of the works of master Sakai Hoitsu, this screen features novel elements like Japanese snake gourd, barley, and lacquer tree.
The intensity of Koson's desire to follow in Korin's footsteps can be seen in the signature on the right side of the painting, in which Koson includes the name "Korin" as a part of his signature.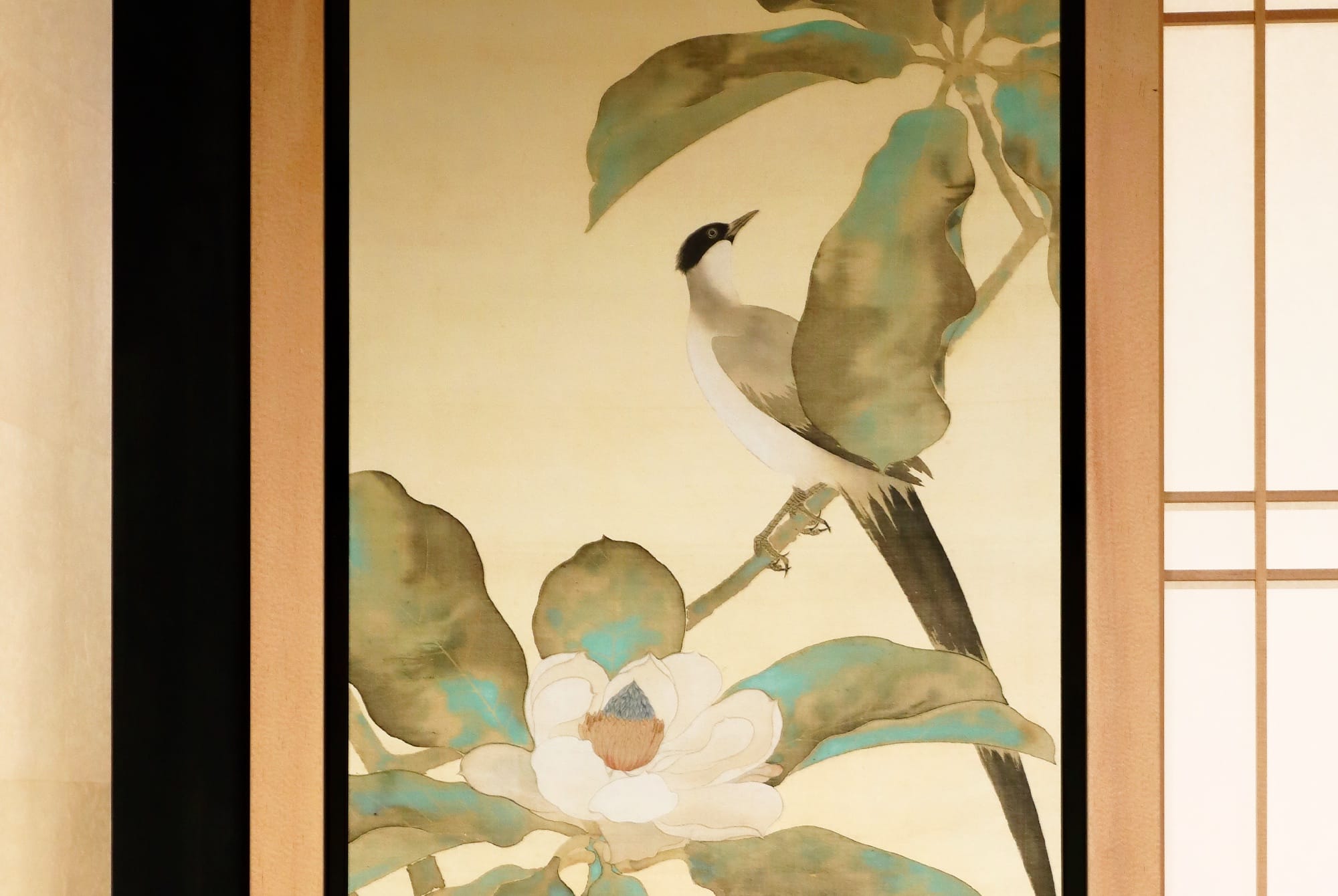 Painting of Magpie on Magnolia

Suzuki Kiitsu(1796~1858)

In this piece, a number of large leaves encircle flowers, white but for their distinguishing centers.
A long-tailed magpie is visible from between the leaves, black and white as though clad in a tuxedo.
These novel motifs put one in mind of some other, foreign country. With its use of new subject matter, and bold composition reminiscent of modern paintings, this piece reveals the matured skills of Kiitsu in his later years.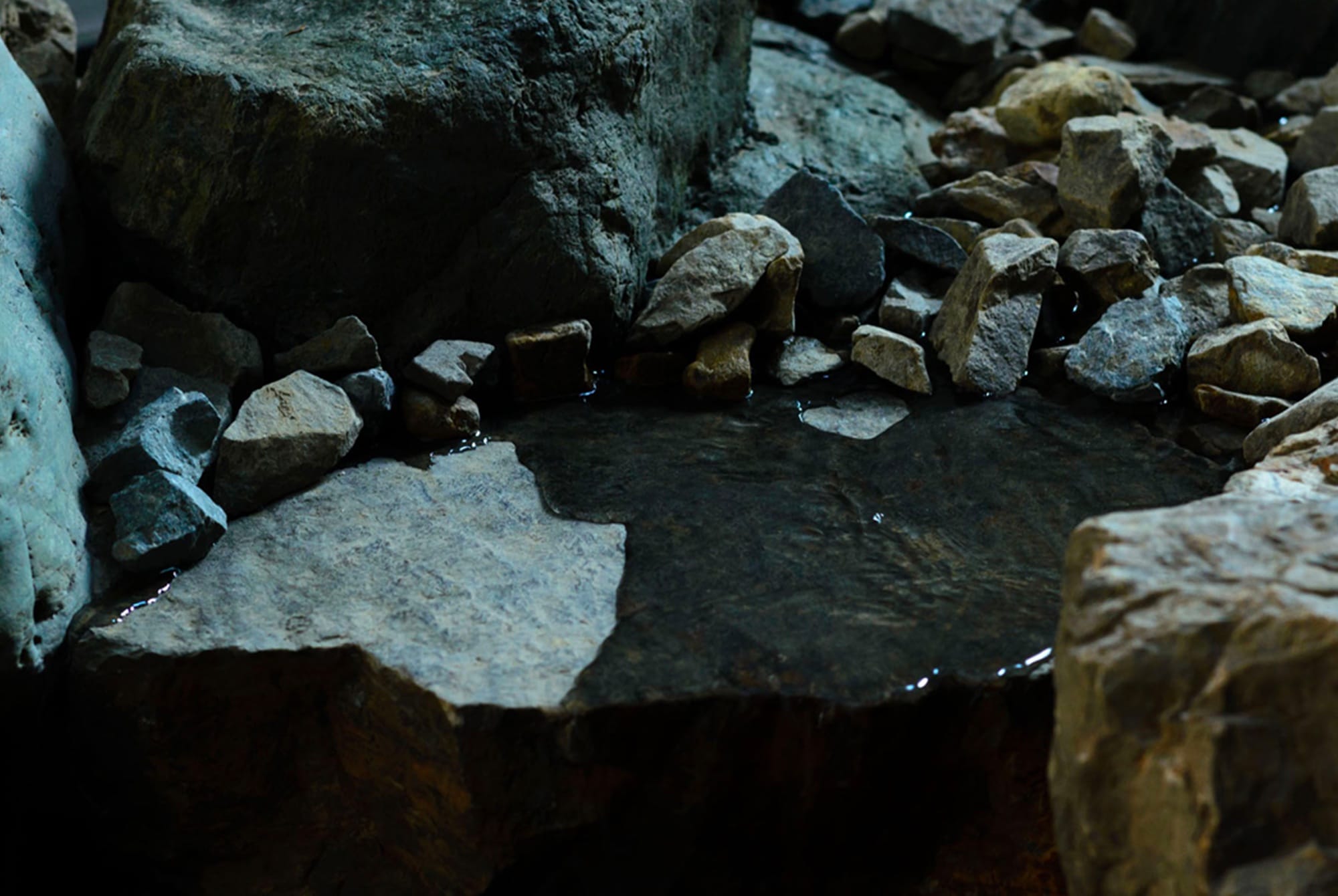 Inner Garden

Onniwa Ueji inc.

This interior Japanese garden was created by Onniwa Ueji, which follows in the footsteps of the great garden architect Ueji, who created the gardens of Murin-an and the Okazaki area.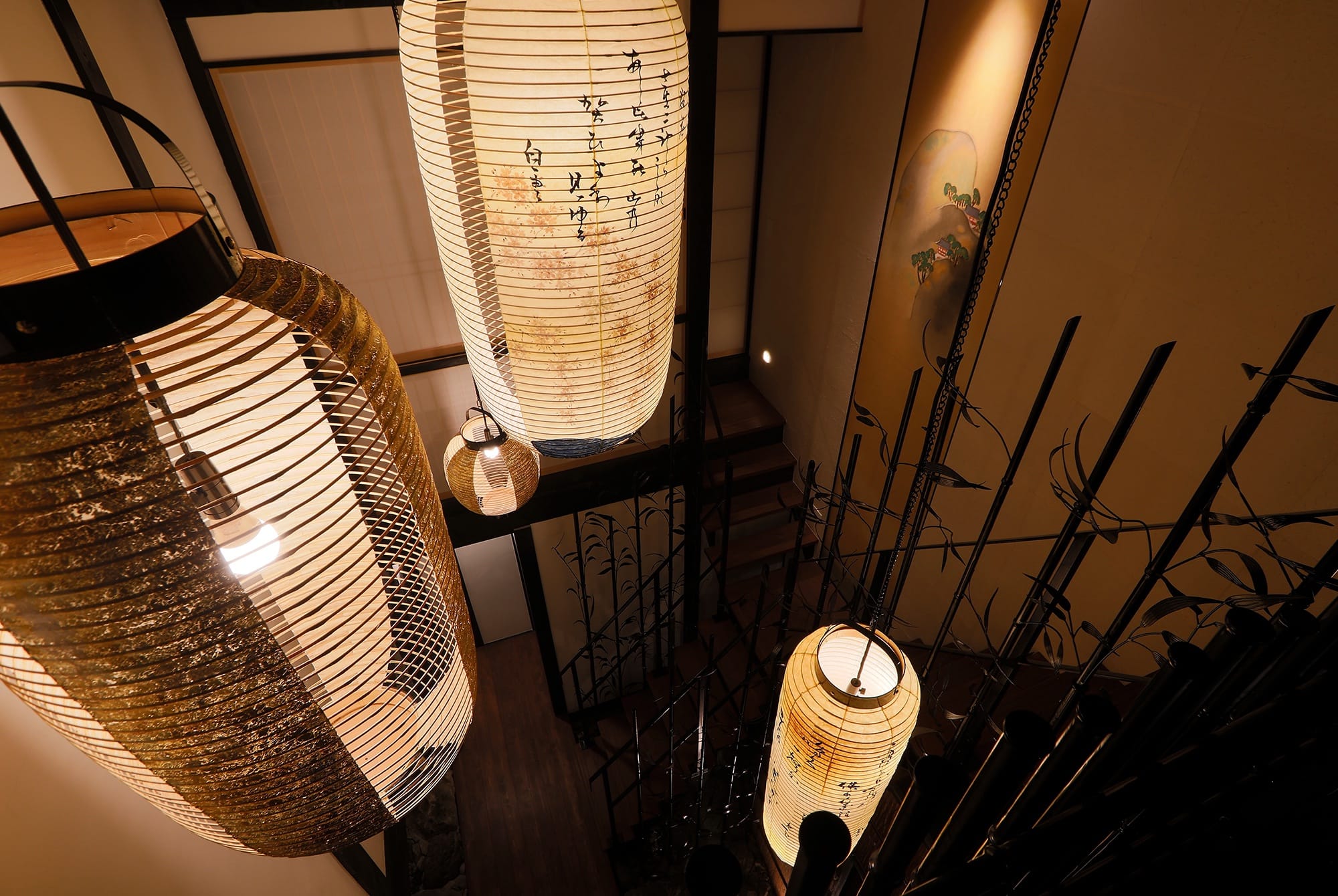 Kyoto-style Paper Lantern

Direction:Seno Daisuke




Production:Kojima Shouten

These paper lanterns are produced in the "jibari" paper-pulling style, which is now only practiced by a few companies in Kyoto.
Reservations & Inquiries
+81-50-3786-2009 Business Hours: 10:00 a.m. - 7:00 p.m.